Postal worker flees street after attacks by dive-bombing seagulls
Postal staff ordered to stop deliveries to an Elgin street after a series of attacks by gulls.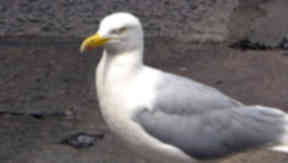 The Royal Mail has cancelled all deliveries to a street in Elgin after a series of attacks on an employee by dive-bombing seagulls.
A female postal worker complained that she had become a target for persistent attacks by gulls whenever she tried to deliver post to the 30 homes in Muirfield Road.
In scenes reminiscent of Alfred Hitchcock's classic movie The Birds, squabbles of seagulls would swoop without warning on the terrified woman as she distributed the mail.
Concerned for her safety, bosses at the Royal Mail have asked residents of the Moray street to collect their own mail at the local post office until the bizarre avian attacks can be resolved.
It is understood that Royal Mail staff were sent out to the street on Friday to assess the situation and concluded that it was still too dangerous for the post to be delivered.
Many communities in Moray have become used to dive-bombing seagulls although Moray Council has appealed to residents not to feed them to discourage them from nesting.
Earlier in 2012, the local authority said it would consider issuing Anti-Social Behaviour Orders (ASBOs) to any residents who ignored warnings not to feed gulls.
A spokesman said: "People do not see any harm in feeding gulls but the fact is that the birds come to rely on it as a regular source of food and they will stay in an area to nest, with all the problems that can cause."
Royal Mail spokeswoman Jennifer Bird said deliveries would resume "when it was safe", adding: "The safety of our people is paramount to Royal Mail and swooping attacks have made it difficult for our employee to do her job.
"These frightening attacks have meant that this week we have temporarily suspended deliveries to some residents in Muirfield Road.
"These kind of attacks do occur at this time of year across the country as gulls are nesting.
"We apologise to customers and will resume deliveries as soon as it is safe to do so."
A spokesman for Moray Council added: "There is not a lot we can do about it, seagulls are a protected species."
Ms Bird said the Royal Mail would continue to monitor the situation.
The acclaimed 1963 horror movie The Birds, made near the end of Hitchcock's career, depicted a tranquil coastal town coming under sudden attack from a flock of murderous gulls and crows.