MP Robert Smith's column
The West Aberdeenshire and Kincardine MP gives his views on the Better Together campaign.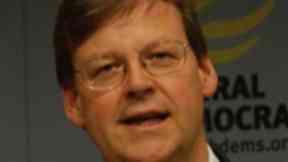 By Sir Robert Smith
Last Monday saw the launch of the "Better Together" campaign.
This is the positive campaign group bringing together those who support Scotland remaining part of the UK.
It will be the group that coordinates the campaign in the run up to the proposed referendum on Scotland's future.
I welcome the decision to focus on the positive benefits of working together.
There are clearly economies of scale in supporting services across the UK.
There is, also, the benefit of being part of a broader economy.
Over the role out of the campaign we will all be able to explore these issues in greater depth.
Many people I talk to want to stay together for a more instinctive reason. They say after three hundred years of history we have grown many ties that it seems would be pointless to break. So many people have family and business ties that cross the border and would hate to see them unravel.
Currently the Scottish Government do not want the Scottish people to have their say about the future for at least another two years. I personally think this creates unnecessary uncertainty for anyone making long term investment decisions.
I am sure we could clear the air at a sooner date. If anyone wants to get involved or find out more about the Better Together campaign the website give more information.
At a time of continuing economic uncertainty we heard positive news last Wednesday at Westminster from one industry very important to the north-east. Subsea UK is an organisation that speaks for the industries that work under the sea. These industries provide a whole range of engineering solutions and operational support.
This is one area where the challenge for the future is to find enough skilled recruits to fill expected vacancies as the industry responds to growing demands. I hosted a reception at Westminster to get the message across that this is a UK wide success story as much of the supply chain is dispersed around the country.
This industry developed much of its leading edge technology here in the challenging conditions of the North Sea. Now that technology is in demand from a global market. By encouraging investment in the North Sea we help to anchor those industries here bringing export income to the economy.
The previous week at Westminster history was made when Daw Aung San Suu Kyi addressed both houses of parliament in Westminster Hall. After years of house arrest she has now been elected to the Parliament in Burma as the country starts the process of reform.
She was the first non Head of State to do such an address. She is an inspirational figure who has sacrificed much to bring reform to her country. Her mild mannered but firm resolve to champion democracy is a reminder of what much of the world still misses out on. There is still a long way to go to end conflict and suffering in Burma, but an important start has been made.
The chancellor's decision to allocate a budget under spend to deferring the inflation rise in fuel duty due this August will be welcome news to all those who rely on their car. In much of the North east a car is essential and not a luxury.
Fuel Duty is a very crude tax hitting all motorists alike. The islands now have an experimental reduction in duty. As that experiment develops it needs to be expanded to include remote rural areas as well.
At the same time we need to start research on a more sophisticated solution that abolishes the duty and replaces it with a variable road charge. In cities like London with extensive public transport options you would pay more than here in the north-east where there is little choice to using a car.