Hidden Aberdeen: The Spirits of Art Deco – Rosemount Square and its Origins
Fiona-Jane Brown takes a look at Aberdeen's quirky and interesting history in her latest blog for STV Local.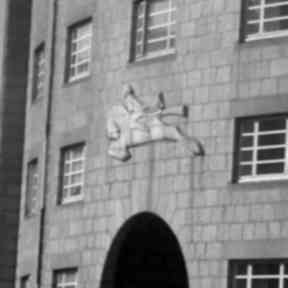 By Fiona-Jane Brown
Looming out from the top of South Mount Street is the tenement complex of Rosemount Square. Built after World War II, not only as an answer to the shortage of accommodation due to bomb damage, but also part of the pre-war plan to improve the frankly miserable Victorian housing stock Britain-wide, Rosemount Square was the modern face of social housing.
In 1937, City Architect, A. B. Gardner was tasked with providing a solution which would fulfil the requirements of the 1935 Housing Act. The site at Rosemount was conveniently empty after a fire which destroyed the former C & E Morton's preserves factory. Morton's was a local firm which had been set up in 1849 by John Thomas Morton.
One of Gardner's most talented designers was local lad, Leo Durnin, born in 1902. Having already created the classic design for the Uptown Baths, Durnin was inspired by the communist architecture of Germany and Austria for Rosemount Square. The arches and circular design echo both Karl Marx-hof in Vienna and Hufeisenseidlung in Berlin. The horseshoe-shaped complex would be an airy, modern set of dwellings with inside toilets! What a change from the crowded, smelly closeys and stairwells of the Victorian tenements nearby. Durnin even considered the advent of mass public car ownership as he made the arches wide enough to accommodate modern vehicles.
War prevented the design being executed until 1945. Alexander B. Gardner, who apparently did not suffer fools gladly, especially at council meetings, was finally able to go ahead and include two of sculptor, T.B. Huxley-Jones' planned designs for decoration above the arches. The latter was most famous for his statue of Helios, Greek god of the sun, at BBC White City, but the elements of wind and rain seemed far more appropriate for the Granite City!
"Aeolos", Spirit of the Winds, complete with "flapper" girl hairdo, rides her slick mount across the arch in Leadside Road. The Spirit of Rain, sporting a Marcel wave and a diaphanous gown, unceremoniously dumps a bucket of water onto the heads of those entering from South Mount Street. The third design 'Spirit of the Cold' was never completed due to tight finances. Would Huxley-Jones have designed her with a fur-collared 1930s coat and cloche hat?
Certainly Rosemount Square remains a touch of pre-war glamour in an area now surrounded by uninspired 1980s blocks, reminding us of our once brilliant architectural heritage. Long may it stay!