Statue of Scottish football legend Denis Law unveiled in Aberdeen
The Lawman's achievements have been honoured with a life-sized statue at Aberdeen Sports Village.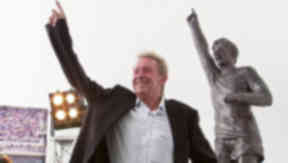 Denis Law, one of Aberdeen's most famous sons, has been honoured for his achievements in football with the unveiling of a life-sized statue.
The former Scotland and Manchester United star personally attended a ceremony at the Aberdeen Sports Village to see the bronze revealed for the first time.
Law showed visible emotion as he praised the work of sculptor Alan Beattie Herriott, who used the iconic image of the striker scoring for Scotland during their 3-2 victory over England at Wembley in 1967 as the inspiration for his creation.
A special appearance was also made by Sandy Busby, the son of the late Sir Matt Busby, who signed Denis for Manchester United in 1962, and subsequently saw the Scot become European Footballer of the Year in 1964 and help the Red Devils become the first English club to win the European Cup when they defeated Benfica in 1968.
"My family and I are delighted with the sculpture - it looks fantastic," said Law, who still retains close links with the Granite City.
"Despite having lived outside Aberdeen for most of my life, I still have a strong connection to the city and am honoured to have a statue commemorated to me in my home town."
The 72-year-old's footballing achievements were celebrated by Denis Law Legacy Trust member Graham Thom, whose organisation conceived the idea of a statue in his honour.
"Denis is such an admired figure in Aberdeen, highlighted by the tremendous turn-out here today," Mr Thom said.
"The 1967 goal represents such a positive time in Scottish footballing history and was an obvious choice as a moment to be captured forever.
"The Trust was set up not only to erect a permanent statue of Aberdeen's most famous sportsman, but to support the advancement of the arts, heritage and culture, as a long-term benefit to the people of Aberdeen.
"The Trust will also be responsible for the running of the annual Denis Law Soccer Tournament [in Aberdeen], which began last year to encourage young children's participation in sport and physical activity."
Law's legacy speaks for itself. He spent 11 years at Manchester United, during which he scored 237 goals in 404 appearances and became known as "The King" and "The Lawman" by Old Trafford aficionados. The statue is a fitting testimony to his gifts.