Two Chinese oil companies announce North Sea deals worth £10bn
Two state-controlled companies have moved to invest in Talisman and Nexen.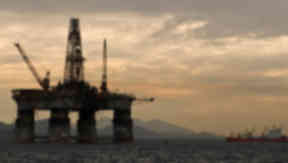 Two state-controlled Chinese oil firms are set to strike major North Sea oil deals worth more than £10bn.
The China National Offshore Oil Corporation (CNOOC) has made a £9.6bn bid for Nexen while Talisman has agreed to sell 49% of its operation to Sinopec for £956m.
The news has been welcomed by Scotland's Energy Minister Fergus Ewing who says the deals point to a positive future for the North Sea oil and gas industry.
He said: "With more than half of the value of the North Sea's oil and gas reserves yet to be extracted, 24bn barrels with a wholesale value of £1.5tn, oil and gas will remain an enormous economic resource for decades to come.
"The Scottish Government's Oil and Gas Strategy developed in conjunction with industry lays out a plan to help the industry go from strength to strength, and build on investments such as the two we have seen today from CNOOC and Sinopec.
"Rising capital investment - reaching £8.5bn in 2011 and expected to rise to £11.5bn in 2012, of which these organisations will represent a key part - demonstrates the confidence investors and the industry have in Scotland."
John A. Manzoni, Talisman's president and CEO, said: "We are very pleased to reach this agreement with Sinopec for the next phase of development of our UK North Sea assets.
"This will provide additional resources and energy to the talented team on the ground, creating an exciting future for this portfolio. Collectively, we will invest more in the UK than Talisman would have on its own, leading to a stronger, more sustainable business."
Barry Jackson, Nexen's chairman of the board, said: "This transaction delivers significant and immediate value to Nexen shareholders.
"The Nexen board is unanimous in its view that the transaction is in the best interest of Nexen and recommends shareholders vote in favour of the transaction."