Aberdeen proves the bee's knees for Sebastian Bacz's new business
An Aberdeen-based beekeeper has created a buzz in the apiary world.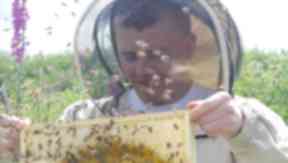 Sebastain Bacz was inspired by watching his grandfather tend to bees when he was growing up in Poland. And now, the 31 year-old Aberdeen-based entrepreneur has launched his own business to make a buzz in the beekeeping world.
Bacz, who speaks passionately about his concerns for the globe's dwindling bee population, has launched his company, Abelo Beekeeping Equipment, with business partner, Katarzyna Wolodko-Ciernak. Together, they provide the full range of equipment - from hives to protective clothing and honey extractors to wax melters - which are needed to look after the insects and are also selling mated Queen Bees to help establish colonies.
"When I was younger, my grandfather used to take me to an apiary [the traditional name for areas where hives are kept]. Then, as a teenager, he sent me to a school for beekeepers, which taught me everything that I needed to know about looking after bees," said Bacz, who received help and advice from Business Gateway Aberdeen City & Shire.
"We decided an online shop would be best, as I am based in Aberdeen, but Katarzyna is in York. It also means we can offer high-quality equipment to beekeepers throughout the UK. I first went to Business Gateway last December for advice on how to set up a company and the service has been fantastic."
The workload never stops for Bacz, but he appreciates his company has to work hard, spreading the message to help prevent any further decrease in the number of bees.
"The bee population is in decline. This could have serious ramifications for us all, and I would encourage anyone thinking about keeping bees to do so," said Bacz.
"Bees are not generally hard to look after; all you need is the right equipment, space to place a hive, time and passion. There are other ways we can all help the bee populations - planting appropriate flowers in our gardens, for instance."
It has been a life-long vocation for Bacz and he waxes lyrical about his business. But he also realises the world needs many more hives and is determined to make it happen.