Sumburgh air disaster remembered
On July 31, 1979, 17 people died after their plane crashed following take off.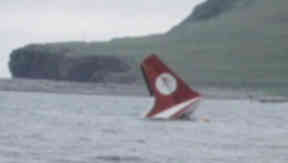 Friday marks the 30th anniversary of one of Scotland's worst ever air disasters, and one of its least well-known.
17 men died when the plane they were in careered off the runway at Sumburgh Airport in Shetland. Families of the dead men say they fear the accident is being forgotten because there is no permanent memorial.
On July 31, 1979, rain was pounding onto the runway at Sumburgh. At 5.30pm that night, a Dan Air flight began its take off procedure.
The plane was destined for Aberdeen, but it never made it into the air. A later investigation found that a fault in the mechanics meant the plane could not lift up.
The pilots of the aircraft could not stop so the plane careered over the edge of the runway. All 47 people onboard survived the impact, but water from the sea started to flood in.
A survivor said at the time: "It filled up in seconds rather than minutes, and it was just panic stations really to get to the door."
Another commented: "The waves were coming towards me, I had my face to them, so every time a wave came over, I was getting washed under the water."
Robert Burgess was one of the rescuers.  At the time of the tragedy, he was on call as an airport firefighter.
He said: "It was a terrible thing to see. We didn't really know what was happening until we got to the scene. The plane was down in the water. Most of the folk who were going to get to the shore had got to the shore."
The plane's pilot, Chris Watson, died after trying to save others.
His widow, Liz Beeley, commented: "He was seen getting out a window. He was seen out helping but he had gone back in.  But my brother in law said it wouldn't have done Chris any good to have survived, because he couldn't have lived knowing other people had died.
"There's certain things you've got to say to yourself to come to terms with it all, and that day was definitely his day to die. It is sad. Those people died and they need to be remembered."
After the accident, laws were passed forcing offshore workers to watch safety videos before every flight.
Protective gear, such as life jackets, are also a requirement now because of what happened at Sumburgh.