More than 200 redheads descend on historic castle for 'flashmob' event
Flame-haired men and women let loose an arrow at Drum Castle to mark release of Disney film Brave.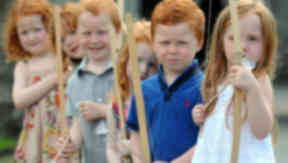 View more pictures of the ginger flashmob event in STV's gallery
More than 200 redheads turned out to a flashmob event at an Aberdeenshire castle to mark the release of the Scottish film Brave.
Ginger-haired men, women and children - and even a dog - descended on Drum Castle in Deeside as part of a ginger "flashmob" event staged by the National Trust for Scotland.
As the first event of its kind in Scotland, the ginger snap gathering was held to mark the release of the film. The Disney movie features a flame-haired heroine Merida and is based in Scotland.
All those who went along got free entry to the castle and were invited to let loose an arrow to mark the film's release.
Alison Burke, property manager at Drum Castle, said the day was a "fantastic moment" for redheads across the north-east.
She said: "Around 258 flame-haired people turned out to the castle so we were absolutely delighted. Our youngest one was a little boy of about 11 weeks old who had lots of ginger hair; he was just gorgeous. We even had a ginger hound.
"It is difficult to know what to expect with this kind of event, but the weather turned out lovely which we were delighted with.
"It was such a unique day and we'd just like to thank all those brilliant flame-haired people out there who took part in the celebration."