Has Google Earth captured image of Loch Ness Monster?
Satellite picture shows strange image in centre of Loch Ness.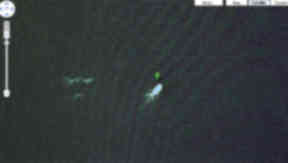 There are reports that an object visible in Loch Ness on Google Earth could be the Loch Ness monster.
A search of the loch, using the website's satellite images, reveals what appears to be a light coloured object with a rounded front and a number of protrusions.
The object can be seen in the middle of the loch, across from the village of Invermoriston.
Over the years a number of theories about the existence of the Loch Ness monster have been put forward, including the possibility that sightings are a result of mis-identification of regular animals, birds, or objects such as trees.
Others maintain that there is a so-far unknown type of creature in the loch, possibly a surviving example of an otherwise-extinct type of dinosaur, or else a previously-unknown species of a known animal like a seal.
Over the years the loch has been subject to analysis and exploration using a number of means, including sonar, underwater video and unmanned submarine. While many of these projects recorded nothing unusual, others produced results that could be interpreted as proof of Nessie's existence, including a picture of what could be the fin of a large creature as well as sonar contact with what could be a large object moving underwater.
Read more reports about the Loch Ness Monster here>
The new sighting will no doubt spark closer examination of satellite images of the loch in hope of spotting any other anomalies.
What do you think the image might be? Let us know in the comments section below!