Body of 17th century man returns to Shetland
The Gunnister Man was discovered well preserved in a peat bog by locals in 1951.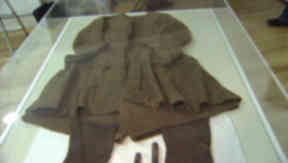 After almost 60 years, one of Shetland's most exciting historical and mysterious finds is returning home.
Found in a peat bog in May 1951, the Gunnister Man – the preserved remains of a 17th century man's body - has spent the past years in the national museum of Scotland.
But now he has been returned to the isles for a unique exhibition.
Although very little of the body survived in the acid peat bog near Gunnister, his woollen clothing was recovered in near pristine condition.
George Dalgleish, principal curator of Scottish history at the National Museum, said the Gunnister Man was of international importance.
He said: "The significance of the find is the rarity of it. It is the clothing of a relatively ordinary person which normally doesn't survive.
"The fact that it was buried in a peat bog means that the woollen clothing survived very well - the preservation is excellent."
The remains were discovered by local men Jimmy Bigland and Jimmy Johnson 58 years ago.
Jimmy Bigland's grandson Ewen Balfour recalled the story.
He said: "My grandfather and another man, Jimmy of Little Ayre, Jimmy Johnson, were cutting peats in May 1951. I think it was Jimmy of Little Ayre who discovered a piece of cloth when his tushkar went into the ground.
"When they investigated further they realised that this was something that needed to be looked at by other people.
"They weren't very comfortable that they might have discovered a human body."
Very little was left of the man other than some hair, fingernails and bone fragments, but the clothing and other items such as a number of coins from the late 17th century were well preserved.
Acting curator at Shetland Museum, Dr Ian Tait said it was the fact that the Gunnister Man was an ordinary and not a noble man was the exciting element of exhibition.
And he had his own theory of what might have happened to him.
"It is nice not to know everything about this man. We don't know exactly what his identity is and we certainly don't know how he died.
"There is nothing on the man to imply that there was foul play, because there is no ligature, no dagger wound, no musket ball hole.
"I think it is a shame that people always look for a picturesque explanation. I see no reason why he didn't die of natural causes and why his body couldn't have found by accident and then buried later, because that certainly happened.
"I think he was an ordinary everyday Shetlander who died in unfortunate circumstances and was buried when found; as simple as that. And to my mind that is the exciting thing - he was ordinary."
The Gunnister man goes on view to the public on Saturday, offering a rare glimpse of what life may have been like in the islands 300 years ago.