Women brave North Sea to help sick tot
Fundraisers take a dip in the North Sea to help toddler with life-threatening condition.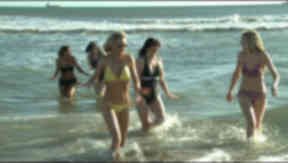 Five women braved the North Sea in bikinis today to help raise money for a young boy who has a rare and debilitating disease.
The fundraisers were completing the daring challenge as part of a Northsound Cash for Kids campaign to raise £17,000 for three-year-old Sean Tye, who has Pompe disease, which affects the heart and muscles.
Charity manager Michelle Herd, co-ordinator Kerry Sutherland and volunteers Liz Thompson and Michelle Ferguson, along with reporter Rebecca Curran, ran into the sea in a bid to raise the final £2,000 needed to help Sean, who is one of only two children in Scotland with the life-threatening illness.
The money will be used to extend Sean's bedroom to accommodate his hospital-sized bed and equipment, such as a ventilator and hoists, as well as creating a downstairs bathroom and storage space for his medication.
Michelle Herd said: "We've been overwhelmed by the response to our appeal for help for Sean and managed to raise over £15,000 in less than two weeks.
"Sean requires treatment 24/7 and is a very poorly wee soul. Everyone has been so generous so we thought we would do something to help reach the target."
After braving the perishing waters of the North Sea, the women described the stunt as a "once in a lifetime" experience.
Kerry Sutherland added: "We were all thinking of Sean when we were doing it.
"He is such a darling and he and his family need all the support they can get.
"The water was absolutely freezing but it is feels great to do something to help Sean. The support we have had has been brilliant and we would be so grateful if people can keep donating."
Sean's dad Ching Shen (Sam) thanked the girls for their efforts.
He said: "They are so brave and I can't thank them enough.
"At the moment the space we have is too small and this will make a huge impact on our quality of lives."
Donations and grants from the Trump Organisation and Aberdeenshire Care & Repair, a charity that adapts houses for people who are disabled, have already covered some of the overall £49,000 cost of the extension to the family home at Balmedie.
CHAP Construction is carrying out the building work at cost price, while architect Raymond Simpson, of Raymond Simpson & Associates Ltd, has provided his services free of charge.
If you would like to donate money to help Sean go to www.justgiving.com/seanappeal