Danish navy seize whaling protest boat from Shetland harbour
A naval vessel took the small Sea Shepherd boat after it took part in an anti-whaling protest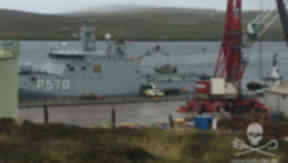 An anti-whaling boat seized by Scottish police at the request of the Faroe Islands has been taken by the Danish navy.
The Echo, which belongs to wildlife campaigners Sea Shepherd, was originally seized while it was being repaired in Shetland on Tuesday.
It was taken on Friday by Denmark on behalf of the Faroe Islands' government.
The rigid inflatable boat arrived in Lerwick earlier this week aboard the Sam Simon, a former survey ship which recently returned from the Faroe Islands.
The Echo was allegedly involved in a collision with a Faroese whaling vessel during the annual pilot whale slaughter at Sandavagur on August 12.
The Sam Simon sailed to Lerwick to refuel shortly after the alleged incident, where the Echo was seized by Police Scotland.
At around 3pm on Friday, the Danish naval boat HDMS Knud Rasmussen entered the harbour and took the small boat on board.
After half and hour, the naval vessel left the harbour with the boat.
Sea Shepherd captain Alex Cornelissen said: "It seems that there is no level that Denmark won't stoop to in order to continue its support of the pilot whale slaughter in the Faroe Islands.
"However, if the Danish government thinks that by confiscating the Echo they will stop Sea Shepherd, they are very sadly mistaken."
In a statement, Police Scotland confirmed the boat had been taken by a Danish naval vessel at around 3pm.