Sleeping man rescued from smoke-filled home during kitchen blaze
Crews wearing breathing apparatus led the man to safety from his house in Aberdeenshire.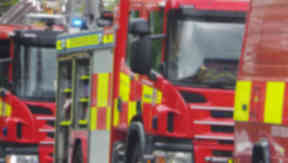 A sleeping man was rescued from his smoke-filled home after his kitchen caught fire.

Firefighters were called to the house on Woodview Court in Stovehaven at 8pm on Thursday.
Crews wearing breathing apparatus extinguished the small fire and led the man from the building.
He was treated for smoke inhalation by paramedics but is not thought to have been seriously harmed.
The fire service was alerted by a neighbour who heard the man's fire alarm going off.
Stonehaven watch manager John Strachan said: "When we arrived the property was fully smoke-logged and we used a fan to clear the area and extinguished the fire.
"There is no doubt that had it not been for the neighbour hearing the smoke alarm and contacting us then this could have been a far more tragic outcome.
"It underlines the importance of having working smoke detectors in your home and checking them regularly."