Rescue of crew from fatal trawler sinking 'delayed by 47 minutes'
Three men died when the Fraserburgh-registered fishing boat Ocean Way went down last year.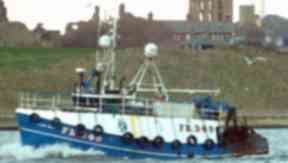 The rescue of fishermen from a fatal fishing trawler sinking was delayed by nearly an hour, accident investigators say.

Skipper James Noble and deckhands Michael Pulpul and Junito Antonio died when the Ocean Way went down in rough seas near Tynemouth last year.
Two others survived the sinking by clinging to a pair of lifebuoys and were rescued three hours after the Fraserburgh-registered boat sank.
An inquiry by the Marine Accident Investigation Branch (MAIB) found that it took rescuers 47 minutes to locate the Ocean Way because it was not fitted with a modern satellite tracking system.
Investigators also reported that water trapped on the trawler's deck which caused the ship to become unstable might have drained away if ports used to keep the boat clear of water had been the correct size.
Two liferafts probably became trapped inside the trawler and were unable to float free and inflate, they added.
MAIB investigators reported: "The Ocean Way capsized and sank about 100 miles off the north east coast of England.
"Two of the crew were rescued about three hours later and the body of the skipper was also recovered. The other two crew have not been found.
"At about 10.56am the skipper shouted down to the four crewmen in the cabin to get out, as the vessel was going down.
"Two of the crew, wearing T-shirts and shorts, managed to climb up and out of the accommodation and over the rails as the vessel capsized. The men then managed to climb onto the upturned hull, from where they saw the skipper and another crewman unresponsive in the water.
"At 10.58am a signal from the vessel's Emergency Position Indicating Radio Beacon (EPIRB) was received and this information was passed to the Maritime and Coastguard Agency.
"The EPIRB was not fitted with integral Global Navigation Satellite System [GNSS] and so the signal identified the vessel, but not its position.
"A number of satellite passes were necessary before the EPIRB's position could be confirmed, which took about 50 minutes."
The MAIB said rescuers would have arrived sooner if the Ocean Way had been fitted with GNSS but added that it was unlikely this would have saved the crew's lives.