Man who raped girl with mother in next room has jail term increased
Andrzej Barwik had his sentence of three years increased to five years for raping 14-year-old girl.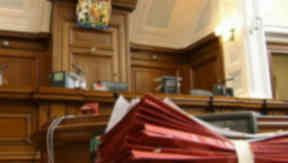 A man who raped a 14-year-old girl while her mother was in the next room has had his prison term increased by two years.

Andrzej Barwik denied raping the girl at a house in a village in Aberdeenshire in February last year, but was found guilty of the crime earlier this year.
The sexual assault took place in the bathroom of a house and Barwik was caught red handed when the child's mother walked in.
Judge lady Wise told the 32-year-old that his assault on the vulnerable girl had caused "considerable distress and trauma".
At the High Court in Edinburgh, the judge said: "I note you continue to deny the commission of this offence. The single act of which you were convicted is undoubtedly sufficiently serious to merit a reasonably significant custodial sentence as a punishment and to act as a deterrent."
Barwik, formerly of Seaforth Street in Fraserburgh, was found guilty of assaulting the girl by uttering threats of violence and raping her in a bathroom.
He was jailed for three years at the High Court in Aberdeen in June.
However, after prosecutors appealed against the sentence, three High Court judges ruled it to be "unduly lenient" and increased the prison term from three years to five years.
In a written ruling on Wednesday, judge Lord Carloway said: "It is unfortunate that the trial judge appears to have had no information on the psychological effects of the offence on the complainer.
"She was, however, aware that this was a rape of a 14-year-old child by a 31-year-old adult who was in a position of trust over her.
"Although the respondent is otherwise of reasonably good character and has been in steady employment, he has shown no remorse and remains in a state of denial.
"In all these circumstances, the court is bound to hold that the sentence of three years is unduly lenient, as falling outwith the range reasonably open to the trial judge.
"This is so, notwithstanding the deference which requires to be shown to the judge who saw and heard the complainer, although not the accused, who did not give evidence. The court will substitute instead a sentence of five years' imprisonment."