Firefighters battle fishing boat blaze at Peterhead Harbour
The RNLI helped firefighters tackle the fire aboard the Tranquility from 10.30pm on Thursday.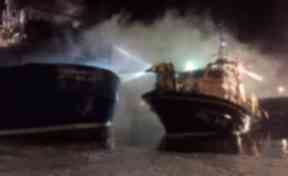 Firefighters have tackled a blaze aboard a fishing boat moored in an Aberdeenshire harbour.
The emergency services were called to the incident on the Tranquility in Peterhead at around 10.30pm on Thursday.
The RNLI's Peterhead lifeboat took members of the Scottish Fire and Rescue Service aboard their vessel to extinguish the fire.
A man was rescued from the water nearby by the harbour's pilot boat, but the incidents are not thought to be linked.
A spokesman for the RNLI said: The Peterhead lifeboat was asked to launch by Aberdeen Coastguard to search for a person or persons who may have abandoned a blazing fishing boat in the harbour basin.
There were reports that there may have been two people in the harbour. One person was recovered by the harbour pilot boat and the lifeboat then searched the harbour area for a number of hours without finding any casualty.
It then stood by the burning fishing boat and helped to cool the deck as an aid to firemen.