Runaway pigs rounded up by police after escaping overturned tractor
The incident happened on the A920 near Ellon in Aberdeenshire on Monday.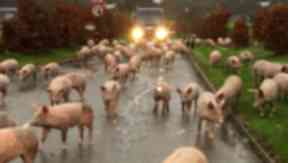 Police have rounded up a herd of pigs which escaped from an overturned tractor trailer.
The incident happened at around 12.20pm on the outskirts of Ellon in Aberdeenshire.
The A920 was shut between Western Avenue and Mains of Esslemont while the pigs were corralled by officers.
The driver of the tractor and the pigs are all believed to be unharmed.
A Police Scotland spokeswoman said: "The incident happened at 12.20pm and we had the road closed.
"Nobody was injured and the pigs have been corralled in an area at the side of the road."