Thousands of patient records destroyed during hospital flooding
The loss was revealed more than four months after the flooding at Aberdeen Royal Infirmary.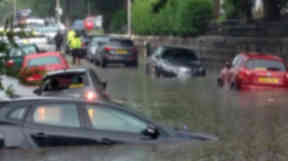 Thousands of patient records were destroyed during flooding at Aberdeen Royal Infirmary.
Records belonging to 8100 patients were ruined when a hospital basement flooded during severe stormy weather in July.
Up to a third of each patient's records were permanently lost but no medical treatment has been cancelled as a result, NHS Grampian said.
The loss of the files was revealed more than four months after the flooding, which caused widespread disruption across the city.
NHS Grampian chief executive Malcolm Wright said: "This will cause some concern to those people affected and we apologise unreservedly.
"I would seek to reassure these patients however that this issue affects only the handwritten part of their notes relating to hospital stays and it will have no adverse impact on the care we are able to provide now or in the future.
"In the main, a person's hospital medical record is now held electronically including all GP related letters, hospital diagnostic test results and correspondence. All of these records are unaffected.
"The majority of the records concerned are hand written, administrative notes relating to a patients stay in hospital.
"Usually these records are destroyed six years after the last contact, which is in line with record management retention schedules and policies."