Fifty firefighters battle major blaze at B-listed mansion in Moray
The emergency service were called to the fire at Blackhills House near Lhanbryde on Thursday.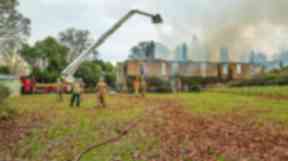 A historic B-listed mansion has been destroyed in a blaze which began in the early hours of the morning.
Fifty firefighters battled to bring the fire at Blackhills House on the outskirts of Lhanbryde under control from 4.30am on Thursday.
The occupants managed to escape the blaze, but the fire has left the mansion badly damaged after spreading through the building.
A spokeswoman for the Scottish Fire and Rescue Service (SFRS) said: "This was a well-established fire and is understood to have spread very quickly from the ground floor to the first floor of the property.
"The occupants of the house were able to self-evacuate and raise the alarm.
"Crews in breathing apparatus used hose reel jets and mains jets to tackle the fire, which was split into sectors.
"The height vehicle was also used as a water tower. The fire was brought under control by 7.33am and the height vehicle is being used at present to dampen the area down.
"Fire investigators will attend the incident ground shortly to establish the cause. Police Scotland were also at the scene."
Blackhills House is on the Blackhills Estate, a 4000-acre country estate including farms, woodlands and moors near Elgin.
SFRS area manager Duncan Smith added: "The occupants of the property were alerted to the presence of a fire by their smoke alarm, which highlights the importance of having working smoke detection fitted in your property.
"Smoke alarms save lives and if your home doesn't have smoke detection we would urge you to contact us and book a free Home Fire Safety Visit. We can fit smoke alarms to your home free of charge."