Dogs and owner escape bedroom blaze which claims lives of three cats
The owner of the house was warned not to go back to rescue the cats from the Aberdeenshire fire.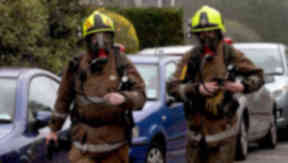 Three cats have died in a blaze which broke out in the bedroom of a house in Aberdeenshire.
Their owner escaped the fire in Gardenstown along with two dogs, but was warned not to go back to rescue the cats.
Firefighters wearing breathing apparatus extinguished the blaze but the first floor of the house was badly smoke damaged in the fire at 6pm on Wednesday.
Scottish Fire and Rescue Service watch manager Ronnie Simpson said: "Had the occupier not taken the advice of our control operator on board the consequences could have been extremely serious.
"Our advice, if you are unfortunate enough to experience a house fire, is to get out of the property, stay out and call the fire service immediately.
"The crews who entered this house experienced zero visibility due to the thick, acrid smoke, therefore the advice from our control operator prevented a human tragedy.
"At the same time we of course understand how distressing it must be for the occupier to lose animals in such a manner."