Donald Trump hits out at Alex Salmond after losing wind farm battle
The American claims the development would spoil the view from his golf links at Menie Estate.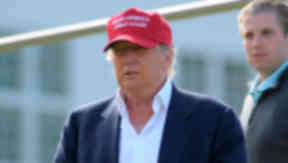 Donald Trump has entered a fresh war of words with former First Minister Alex Salmond over plans for a wind farm in Aberdeen.
The row began after the Republican presidential hopeful lost his third legal battle against the European Offshore Wind Deployment Centre (EOWDC) at the Supreme Court on Wednesday.
Mr Trump claims the 11-turbine wind farm in Aberdeen Bay would spoil the view from his luxury golf links at the Menie Estate.
But Scottish courts have repeatedly upheld the Scottish Government's decision to grant planning permission for the scheme, made during Mr Salmond's tenure as First Minister.
On Wednesday, the Gordon MP described Mr Trump as a "three-time loser" and said he had damaged Scotland's economy with his "unacceptable behaviour".
Mr Salmond, who is also MSP for Aberdeenshire East, said: "[Trump] has failed to meet the claims he made for the Menie estate golf complex. He has created a fine golf course but it does not even have a permanent clubhouse at present, far less the claims of thousands of jobs and billions of investment."
He added: "His behaviour and comments are unlikely to attract the votes of many Mexican Americans or Muslim Americans.
"Given his treatment of Scotland, Scots American are likely to join the ever-growing list of people alienated by Trump."
A spokesman for Mr Trump hit back at the MP's comments, saying he should "go back to unveiling pompous portraits of himself".
He said: "Does anyone care what this man thinks? He's a has-been and totally irrelevant. The fact that he doesn't even know what's going on in his own constituency says it all.
"We have a permanent clubhouse and the business is flourishing. He should go back to doing what he does best - unveiling pompous portraits of himself that pander to his already overinflated ego."
Mr Salmond was recently criticised for missing a debate on military action in Syria to unveil a portrait of himself.
Legal battle
Judges at the Court of Session rejected Mr Trump's first challenge over the Scottish Government's decision to planning permission for the scheme in February 2014.
The property tycoon appealed against the court's decision in January 2015, but that appeal was also turned down in June. A third legal challenge at the UK's Supreme Court was rejected by judges on Wednesday.
Mr Trump previously indicated that he would take his fight to European courts if it failed in the UK.
The EOWDC is a joint venture by Vattenfall Wind Power and the Aberdeen Renewable Energy Group.
The facility would be used to test new wind turbine technology and could power up to 68,000 homes a year.
A spokesman for the Trump Organisation said: "This is an extremely unfortunate verdict for the residents of Aberdeen and anyone who cares about Scotland's economic future.
"The EOWDC will completely destroy the bucolic Aberdeen Bay and cast a terrible shadow upon the future of tourism for the area.
"History will judge those involved unfavourably and the outcome demonstrates the foolish, small minded and parochial mentality which dominates the current Scottish Governments dangerous experiment with wind energy.
"While the EOWDC's leadership have stated the project will proceed, the onerous planning conditions remain unpurified and it is common knowledge that there is no funding for a technology that is now many years obsolete.
"With oil prices plummeting and the lack of money for vital projects like the Aberdeen Western Peripheral Route, the EOWDC will never be built and comments that suggest otherwise are nothing more than delusional posturing. We will evaluate the Courts decision and continue to fight this proposal on every possible front."
A spokesman for the developers behind the EOWDC described the Supreme Court's decision as a "significant step forward".
They added: "We remain committed to seeing the EOWDC come to fruition and delivering long-term economic benefits to the region."
WWF Scotland director Lang Banks said the Supreme Court's decision was "great news for Scotland".
He added: "Once up and running, this test facility will be ideally placed to test the technologies needed to harness Scotland's huge offshore renewables potential."
Friends of the Earth Scotland director Dr Richard Dixon said Mr Trump should stop "wasting his time" and described the billionaire as a "laughing stock".
Earlier this year it emerged that Mr Trump, a vocal opponent of wind turbines, owned shares in a US wind power company.
His investment in Nextera Energy was only made public as a result of his bid to become the next President of the United States.
Controversy
A petition to ban Mr Trump from the UK in the wake of controversial comments about Muslims has become the most popular ever published on the UK Governments website, with more than 500,000 signatures.
The petition was created nearly three weeks ago, but the number of supporters soared last week after Mr Trump called for Muslims to be barred from entering the US and claimed that parts of London are so radicalised that police officers fear for their lives.
Mr Trump, who also owns Turnberry golf course in South Ayrshire, was stripped of his honorary degree from Aberdeen's Robert Gordon University after 70,000 people signed a separate petition calling for its removal.
The tycoon also had his status as a business ambassador for Scotland revoked by the First Minister, but claimed that politicians "should be thanking him for what he has done for Scotland".