Evacuated residents return home after blaze at Arnold Clark garage
Eighty people were moved to community centre as thick smoke filled area near the garage in Aberdeen.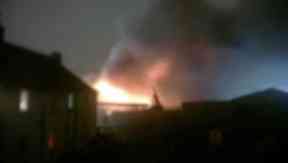 Residents evacuated from their properties after a blaze ripped through an Arnold Clark garage have returned home.
About 80 people were moved to a community centre as thick smoke filled the area around the Arnold Clark centre in Girdleness Road in Aberdeen from 5am on Tuesday.
No one was injured as a result of the blaze but about 30 firefighters were involved in the operation to bring it under control.
Locals who were taken to a community centre in Balnagask Road have returned home, a spokesman for the fire service confirmed.
Arnold Clark said there had been "serious damage" to the site and any customer vehicles damaged by the fire are to be replaced with courtesy cars.
A spokeswoman for the motor group said: "We are aware of serious damage to the site and we are working to establish the full extent of this.
"It is our absolute priority to help all customers who had cars on site to be mobile again by offering a replacement courtesy car on a like-for-like basis where possible.
"We understand this is a hectic time of year and we are doing all we can to minimise the inconvenience to those affected. We are working to reduce any disruption to the local community.
"The branch is currently closed, however we will endeavour to transfer all appointments to our surrounding sites.
"At the moment, an investigation is taking place and we will provide an update in due course."
An Aberdeen City Council spokesman said: "Balnagask community centre was opened to receive residents affected by the smoke from the fire and the Red Cross was on hand to provide support for families."