Stone knives unearthed at newly-discovered Bronze Age settlement
The complex on the island of Sanday was found after sand dunes were swept away.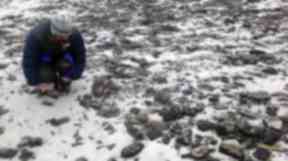 Stone knives and tools have been unearthed at a Bronze Age settlement in Orkney recently uncovered by shifting sands.
Archaeologists made the discovery after sand dunes which had hidden the settlement on Sanday for nearly 4000 years were swept away.
Christopher Gee was walking to Tresness with three colleagues earlier this month when he spotted what appeared to be a stone cairn poking out of the sand.
Closer inspection revealed stone walls belonging to 14 houses, which experts believe could be one of the largest Bronze Age settlements ever found in Scotland.
Archaeologists from the University of the Highlands and Islands have now found tools and stone knives, known as "Skaill knives", at the site.
Similar knives were found during the excavation of Skara Brae and are believed to have been left behind as part of a ritual when the settlement was abandoned.
They became known as Skaill knives after a large number were discovered at Skaill, near Skara Brae on Orkney's mainland.