Beach cordoned off after 'highly toxic' flare washes up in storm
The marine location flare was discovered on Meal Beach on the island of West Burra in Shetland.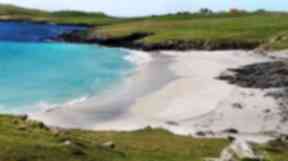 A beach has been cordoned off after a "highly toxic" flare washed up in a storm.
The marine location flare was found on Meal Beach on island of West Burra in Shetland on Saturday.
Bomb disposal experts are expected to remove the flare on Wednesday and locals have been asked to stay away until then.
Marine flares can contain hazardous substances like oil, magnesium and potassium chlorate and can contaminate water supplies.
A Police Scotland spokesman said: "Police in Shetland received a report on Saturday evening of debris having been found on Meal Beach, south east of the village of Hamnavoe, on West Burra.
"Police would advise the ordnance, a marine location flare, is believed to be highly toxic and in agreement with Her Majesty's Coastguard, a cordon has been set up around the beach in order to prevent anyone from entering the site.
"The Explosive Ordnance Disposal Unit have been contacted and are expected to attend the site on Wednesday in order to make the ordnance safe.
"We urge members of the public to stay away from the site until the cordon has been removed and the area cleared."