Scotland's oil industry 'at edge of chasm' as investment collapses
Industry body Oil and Gas UK says 43% will run at a loss if price remains at $30 a barrel.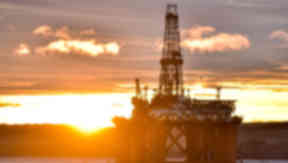 Scotland's oil industry is "at the edge of a chasm" as nearly half of all North Sea fields face unprofitably, experts warn.
Job cuts totalling more than 70,000 have helped slash the cost of operating in the North Sea by 40%, according to industry body Oil and Gas UK.
But companies remain wary of investing and the industry is expected to spend less than £1bn on new projects this year - down from an average of £8bn in the last five years.
Oil and Gas UK said urgent tax reforms are needed to encourage growth and make the North Sea more attractive to investors in a newly-published report.
The cost of extracting a barrel of oil from the North Sea has fallen to around $21 but around 43% of fields will run at a loss in 2016 if the price stays around $30, it said.
Oil and Gas UK chief executive Deirdre Michie said: "The UK Continental Shelf is entering a phase of 'super maturity'.
"While the industry's decades of experience provide great depths of knowledge and expertise which can be applied to recover the still significant remaining resource, the report highlights the challenges that the falling oil price poses in our capability to maximise economic recovery of the UK's offshore oil and gas."
Exploration of new oil and gas reserves is at an all-time low and the pace of North Sea decommissioning is accelerating. Some 21 fields were shut down last year and more than 100 fields are expected to cease production by 2020.
But Wood Group owner Ian Wood said he is certain the North Sea will recover in the next five years.
"We produce about 44 billion barrels and there is a view that there could be another 20 billion to come, so it's almost a third still to come," he told BBC Radio Scotland's Good Morning Scotland programme.
"I think that's a bit high but it could be 15 to 16 billion barrels to come, so there's a huge prize out there and it's quite wrong to think that the North Sea is finished. That is just completely wrong. The North Sea will recover.
"I'm prepared to guarantee in the next four or five years we won't perhaps be back to where we were but we will be back to a pretty active, strong industry with a lot of prospects ahead of it.
"We need to think and plan towards that. I think it will take $60 to $70-a-barrel oil, a fiscal regime determined to maximise recovery from the North Sea, a very active Oil and Gas Association, and the industry keeping its cost base down to the kind of $15 to $17-a-barrel operating cost level."
On Tuesday, the Wood Group posted underlying earnings of $469.7m for 2015, down from $549.6m the previous year. The firm was forced to shed around 8000 jobs last year - more than half of its global workforce.
'Fiscal regime has to change'
Responding to Oil and Gas UK's latest report, Scottish Labour energy spokesman Lewis Macdonald said: "We agree with Oil and Gas UK that the fiscal regime has to change.
"It's unlikely that the North Sea will ever produce the billions in tax revenues it did at its peak and government has to recognise its importance to jobs and the economy is much greater than its future role as a source of government tax revenues.
"At the same time, we need to see government and industry working together on sharing risk and extending the life of marginal fields.
"This is not just about taxation but also about direct investment in the sector following the success of seismic exploration by the Oil and Gas Authority.
"Any tax breaks the industry gets have to go hand-in-glove with clear commitments on maintenance of vital infrastructure, environmental protection and safe working offshore."