North Sea oil platform production shut down over gas leak
A total of 54 people were aboard the platform when a 'small gas seep' occurred.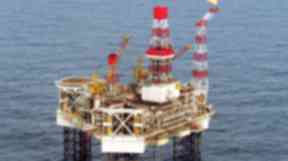 A North Sea oil platform has been shut down following a minor gas leak.
The Harding's crew were called to muster on Sunday after the leak was discovered by an engineer.
A total of 54 people were aboard the platform, 200 miles north east of Aberdeen, at the time.
A Taqa spokeswoman said: "A small gas seep was detected on board the Harding platform on Sunday at approximately 9.23am.
"As a precaution, production on the platform was immediately shut down and the 54 crew were assembled at muster points.
"The quantity of the minor seep is below reportable levels and was insufficient to set off the gas detection system but was detected locally by a technician.
"Work is ongoing to isolate the section of pipework where the seep occurred and ensure any similar components are fit for service before production is restarted within the next few days."
Taqa has a 70% stake in the Harding field in partnership with Maersk, which owns the other 30% .