Pair charged after police station fire forced school closure
A man and woman have been charged in connection with alleged wilful fireraising in Dyce.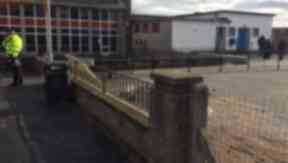 Two people have been charged after a fire at a police station which forced the closure of a nearby school.
Emergency services were called to the scene of the blaze in the Dyce area of Aberdeen at around 7.20am on Tuesday.
Parents were informed on Tuesday morning that Dyce Primary School would be closed due to its proximity to the police station.
A 41-year-old woman and a man, aged 23, have been charged in connection with an alleged wilful fireraising.