Sacrifice at the Somme exhibition opened by Hollywood actor
Dougray Scott's grandfather was a Gordon Highlander and served in the First World War.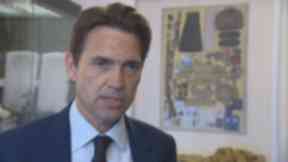 Hollywood actor Dougray Scott has opened a new exhibition marking the sacrifice of the Gordon Highlanders at the Battle of the Somme.
The actor, whose grandfather served with the regiment during the First World War, said war museums are vital to ensuring the sacrifices made by those who died in the war are never forgotten.
Sacrifice at the Somme was opened in the Gordon Highlanders Museum in Aberdeen on Thursday.
It features the Great War Tapestry and depicts the war through the eyes of the soldiers as well as telling the story of the battle itself.
The project, which is a partnership between the museum, Aberdeen City Council and the Heritage Lottery Fund, depicts the Gordon Highlanders during the First World War.
It was designed Andrew Crummy, the same artist who produced the Great Tapestry of Scotland, and was stitched by volunteers across the north east.
Mr Scott said: "It was an honour to be asked to open the exhibition. I've always been fascinated by the First World War because I've played a lot of soldiers and I've done quite a lot of research into it. I just find it very, very fascinating.
"Museums like this are incredibly important. The exhibition, Sacrifice at the Somme, is a wonderful exhibition and I think it's really important that as a society we remember the sacrifices that these men made 100 years ago."
"Museums like this are a testament to us as a society because they say 'we don't forget, your deaths were not for nothing'."