North Sea 'an ideal location' to bury waste carbon dioxide 
UK Government should grasp 'real opportunity for Scotland', according to new report.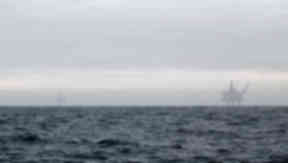 The North Sea would be an "ideal location" for storing waste carbon dioxide, a report has claimed.
Carbon capture and storage (CSS) technology, which involves the gas being buried to so it cannot enter the atmosphere, has been mooted as one method of cutting global warming.
A study published on Friday by the Global CCS Institute said the UK is "exceptionally well positioned" due to the "well advanced" technology and regulatory measures already in place.
The North Sea would be "an ideal location to demonstrate CCS technologies that would form the basis of a valuable new industry", the report adds.
Professor Stuart Haszeldine, SCCS director, said: "It is clear that worldwide, there is plenty of CO2 storage capacity that can be developed, many times that estimated by the International Energy Agency as needed by 2050.
"The storage potential beneath the seas around the UK is highlighted as exceptionally well-known, understood and accessible, and this presents a real opportunity for Scotland and the UK which the government should grasp."
The report comes a month after the UK Government was criticised for scrapping plans for a £1bn fund for a cutting-edge CCS scheme in Peterhead.
Prime Minister David Cameron's U-turn on support for CCS, which he previously called "critical" to meet environmental targets, led to the scheme being scrapped. In January, he claimed "the economics at the moment really aren't working".
Mr Haszeldine said: "CCS in the UK is far from dead and North Sea industries could be looking to widen their interests into a long-duration sustainable future of CO2 storage, as well as concentrating on cost reductions in their existing businesses."