Murder trial jury shown post-mortem images of stab wound
A pathologist told the court he was 'unsurprised' knife injury killed Bailey Gwynne.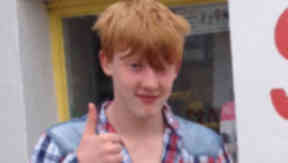 The jury in the trial of a teenager accused of murdering a schoolboy Bailey Gwynne has been shown post-mortem images of the fatal wound.
A medical expert told Aberdeen High Court he was "unsurprised" the knife injury suffered by 16-year-old Bailey was fatal.
The teenager died at Aberdeen Royal Infirmary after the incident at Cults Academy on October 28 last year.
A 16-year-old boy, who cannot be named for legal reasons, is accused of his murder.
On Friday, photographs of Bailey's body taken during a post-mortem examination carried out by Aberdeen-based pathologist professor James Grieve were shown to the jury.
Mr Grieve, 62, told the court: "It's a very typical stab wound. It has a somewhat blunted upper end."
He was shown a knife, which he said would have been capable of inflicting the wound.
Advocate depute Alex Prentice, prosecuting, asked Dr Grieve if the incident would have been survivable.
The professor said the time elapsed between the "exceptionally dangerous wound" being inflicted and medical treatment being administered would have been the deciding factor in whether Bailey lived or died.
He said: "Time would have been critical.
"What we have is a stab wound which penetrated through the muscle and the fat between two ribs and goes into the heart through the pericardium sac into the left ventricle.
"I could not say that if this happened outside an operating theatre with surgeons all there scrubbed up it would be necessarily fatal.
"The further you get from that circumstance it's less likely there's any chance of survival.
"Cults Academy, where my own children went to school, is not very far out of the city, but it is far enough.
"Having seen the reports of paramedics and emergency workers I am in no way surprised what the outcome was."
The evidence was heard on the fourth day of the trial. The Crown case concluded on Friday and defence counsel Ian Duguid QC confirmed that the accused has elected not to give evidence.
The trial has previously heard the two boys rowed over a packet of biscuits before the stabbing.
In a police interview after the incident, the accused told police he had bought the knife to "act cool".
The murder charge against the 16-year-old claims he did "engage in fighting" with Bailey and struck him on the body with a knife.
In addition, the accused is also alleged to have had knives or "bladed instruments" as well as two knuckledusters "without reasonable excuse or lawful authority" on various occasions between August 1, 2013, and the day of the alleged murder.
The trial at the High Court in Aberdeen continues on Monday.