Farmers get extra £1m in flood repair cash after storms
Money available to those who have already applied Agricultural Floodbank Repair Scheme.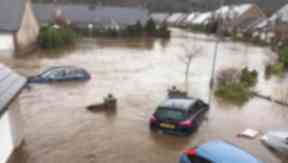 An extra £1m is being put into the Agricultural Floodbank Repair Scheme due to the level of demand from farmers following recent bad weather.
The Scottish Government announced about £16m of support for flood-hit areas earlier this year so every household, business or charity directly affected by the flooding could receive a grant of £1,500.
It covered £5m for infrastructure repairs such as the A93, which was partially swept away by the River Dee between Ballater and Braemar in Aberdeenshire in January.
Environment secretary Richard Lochhead announced the additional funding for farmers during a visit to Ballater, Aberdeenshire, on Friday, which was badly hit by storms Desmond and Frank.
The Scottish Government said the extra money is available to farmers who have already applied for the scheme, with no new applications being accepted.
Mr Lochhead said: "Ballater has suffered badly as a result of the recent flooding and it's good to know that already more than £1m of the funding provided by the Scottish Government has been paid out by the local council to households and businesses that were affected, and Aberdeenshire Council is still working its way through applications.
"What struck me on my visit here today was the great sense of community spirit Ballater has - everyone is rallying around to help others and that's a really fantastic thing to see during difficult times.
"And it's great news that there is now up to £2m available in the Agricultural Floodbank Repair Scheme to cover the standard costs of repairs to man-made floodbanks on farms which were affected by flooding in nine local authorities during December and early January."
Richard Thomson, of Aberdeenshire Council, said: "The council has established a flood recovery group which is identifying works and overseeing the delivery of this programme.
"The estimated list of work so far totals around £7.6m. Whilst the council will make use of its emergency funds, we're also very grateful to the Scottish Government for their additional financial support."