Golfer Catriona Matthew on family life and 20 years on the fairways
Major winner reflects on her career as she becomes first woman to enter Scottish Golf hall of fame.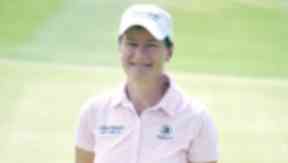 The brisk sea air whistles over the phone as Catriona Matthew walks and talks during the school run through North Berwick.
When her two daughters Katie and Sophie are in the classroom, Scotland's most successful female professional golfer's schedule is organised with military precision.
"You just have to manage your time," Catriona says, en route to the school.
"That's the biggest difference I have noticed since having children.
"It's all just about trying to fit it in when the two kids are at school. So it's pretty hectic between 9am and 3pm. There's not much time to sit around."
Life as a professional golfer has taken Catriona to every corner of the globe.
This year alone she has competed in the Bahamas, United States and Australia, with her schedule already mapped out up until November.
After turning professional in 1995, the 46-year-old has secured 11 professional wins and amassed more than $9,000,000 in prize money.
She's also the only Scottish woman to have ever won a major championship.
"It's pretty full on," she says. "I am very lucky in that my husband does a lot, I couldn't do it without his support.
"And my mum lives locally as well so is a built-in babysitter."
When at home, Catriona is in the gym most days during school hours and gets out on the golf course a few times a week.
"When I am away, I can focus on my golf and when I am home, in a way, it takes the pressure away from the golf," she says.
"I am not always concentrating on it because you have got a lot of other things going on in your life.
"Being with the family is great. It's funny because I go from places like Bangkok and Singapore which are huge and bustling and you come back here and it's a more relaxed way of life, which is nice."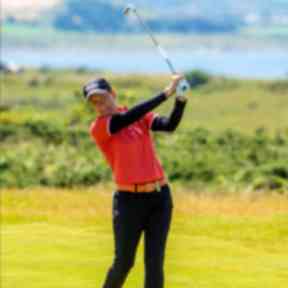 On March 11, Catriona Matthew's name will be etched into history as she becomes the first woman to enter Scottish golf's hall of fame.
She'll join the likes of Paul Lawrie, Colin Montgomerie, Sam Torrance, Sandy Lyle and most recently Bernard Gallacher to be recognised as one of the finest golfing talents Scotland has produced.
Now in its sixth year, it's the first time a woman has been handed Scottish golf's lifetime achievement award, an accolade Catriona says has allowed her to reflect on her career.
"It is a tremendous honour," she admits.
"At the time while you are playing, you don't really realise perhaps what you are doing
"It's not until you get given an award like this, you look back and think, 'oh yeah, I have done not too badly'.
"Especially with the Scottish Golf Union (SGU) and the Scottish Ladies' Golfing Association (SLGA) amalgamating just last year, I think it's a good thing for a lady to be recognised and to get that kind of top award and I think it's good for the sport."
Catriona has always credited her family as the people who have most influenced her career, with her husband Graeme working as her caddie for around 15 years.
"We were fortunate that it worked for us," she says. "Obviously, like anything, it's had its ups and downs but for the majority of the time it worked really well.
"I always felt if he didn't caddie for me, it would have been a very long time to have been away from each other."
Graeme caddied for Catriona when she won her first major at the Women's British Open in 2009, impressively just ten weeks after giving birth to her second daughter Sophie.
"Going in with my expectations not being quite as high as normal, which I suppose made me relax that little bit more - if you could just get that feeling all the time.
"It was the highlight of my career winning British and having my husband on the bag. Walking up the last hole, the Scottish girl's team were there all with their faces painted - it was a great experience."
Having started playing at the age of five on North Berwick's Children's Course, Catriona says her daughters have both taken a swing at the sport.
"I would love for them to play golf," she says. "Whether they go on to play competitively is completely up to them but I would love for them to go out and play and hopefully enjoy it.
"They are beginning to play a little bit. I don't know if they are super keen but we will take them out and hit shots every so often.
"We are spoiled for choice with all the golf courses and we are lucky with having the children's course in North Berwick, which is ideal for kids to start playing on. The facilities are there, we've got no excuses."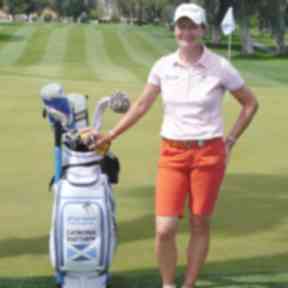 Looking ahead, Catriona has hopes of qualifying and competing in Team GB at the 2016 Olympics in Rio, the first time golf has been included since 1904.
"Rio is going to be my one and only chance of getting in the team, just because of where I am at the stage in my career," she says.
"It would be a fantastic experience to go and play in. It's a goal of mine and I would love to have the opportunity to go and play in it."
While Rio is firmly in her sights, Catriona also has another major win on her wishlist as well as a slot on the 2019 Solheim Cup team.
The Europe versus the United States team match, held every two years, is a firm favourite of the Scot, having competed eight times in the event during her career.
Hosted at Gleneagles in 2019, it also brings with it the tantalising prospect of captaining the team on home soil.
At 46, it's an opportunity Catriona would grab with both hands, although she believes that age is really no barrier when it comes to golf, a statement echoed by Jack Nicklaus who recently tweeted her some words of encouragement.
"The Solheim is something I really enjoy," she says. "I am hoping to perhaps play again in Iowa and I would have thought that by the time it comes around to Scotland, obviously I would like to have some sort of role in it.
"Ideally, I would put my hat in the ring for being captain but obviously that's a decision other people make so we will just wait and see.
"It would be great to have the opportunity to do it in your home country - not many get the chance to do that.
"That's where golf is such a good sport. I am 46 and you can compete with Lydia Ko at 17/18.
"That's the real beauty of golf, age really isn't a factor - you can compete for 30 years if you want."