North Sea firm accused of making 'fake redundancies'
Trade union hits out at Farstad over claims it is replacing UK workers with Asian seafarers.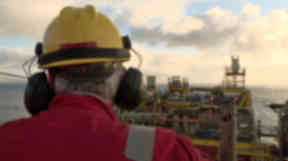 A union has accused a North Sea firm of making "fake redundancies" to hire cheaper foreign workers.
Representatives from Nautilus International said they were outraged after it emerged shipping company Farstad was releasing 45 UK officers and ratings and replacing them with workers from Asia.
Personnel at the Norwegian firm admitted in an email that it intends to replace the crews, which work on ships operating in British waters, with Asian workers to "lower costs".
Farstad told union representatives the move would avoid having to withdraw any vessels.
The email added the company was "sorry about the situation but we are trying to keep most of the vessels active".
It is another blow for the North Sea sector, which has suffered around 65,000 job losses since the oil price crashed last year.
Nautilus senior national secretary Garry Elliott said the decision by Farstad, with which the union has a trade union recognition agreement, was "disgusting".
He said members had been trying to work with the company to find ways to cut costs without losing jobs.
Mr Elliott said: "It is disgusting that a company who had previously agreed that British seafarers would be employed on British terms and conditions can ignore rules about redundancy and wipe out their UK staff without a second thought.
"UK law states that a company can only make a job redundant, not a person, but these jobs clearly still exist as Farstad has admitted it will be recruiting Asian workers to replace them.
"What Farstad is doing is nothing more than creating fake redundancy as an excuse to sack workers and get cheaper crewing costs."
Mr Elliott said he feared the situation was not a one-off as North Sea firms struggle to balance the books.
A Nautilus union member who was working for Farstad in the North Sea on Thursday when he received the company email about the redundancies said British crew were already struggling to compete with other European workers.
The man, who asked not to be named, said seafarers from elsewhere in Europe accept lower pay because they have a cheaper cost of living and do not have to pay UK tax.
He said: "Now we are going to have to compete for UK jobs with people who come from Asia. Surely it is time for the UK Government to take the situation in the North Sea seriously and start protecting jobs?"
"Wouldn't it be better to have 65,000 offshore workers in jobs, paying tax and supporting the UK economy rather than 65,000 UK workers claiming benefits and 65,000 Asians working in UK waters but not contributing a penny to the economy?"
The union has called on Farstad to hold emergency talks to find ways around making the redundancies and is also considering legal action.
Torstein Stavseng, chief financial officer of Farstad Shipping, said: "Farstad Shipping is in a process where we due to the difficult market situation, reduction in fleet size and laid up vessels unfortunately must lay off skilled seafarers, including British ones.
"According to normal procedures in such processes, notice has been sent to those concerned, with an invitation to a meeting with the company. We will return with more information as it becomes available."