Timeline of events surrounding the killing of Bailey Gwynne
How events unfolded in the lead-up to the schoolboy's death at Cults Academy in Aberdeen.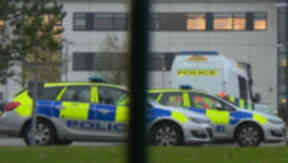 2015: Searches made from the accused's computer including "illegal knives UK", "knuckledusters UK", "Aberdeen stabbings per 1000", "difference between homicide and murder" and "how to get rid of someone annoying".
Mid-2015: Killer buys knife from online retailer Amazon and purchases knuckledusters elsewhere online.
October 28 2015, 12pm: Bailey's friends go to buy lunch from a shop, leaving the 16-year-old behind at Cults Academy.
October 28, 1pm: Bailey's friends return to school and meet the 16-year-old. They go to meet a boy from whom one of their group intends to buy a ticket to the school's Halloween party.
October 28, 1.15pm: The group meet the boy in a corridor off the main communal area of Cults Academy known as "the Street".
Bailey is eating biscuits after missing lunch and is asked to give a biscuit to another boy, which he does.
When asked for a second biscuit, Bailey refuses and exchanges heated words with his killer.
A fight breaks out and Bailey is stabbed. A teacher steps in but fails to realise Bailey has been injured. He collapses nearby on the Street.
October 28, 1.20pm: An ambulance is called and shortly afterwards first-response paramedic Gary Gillespie arrives at Cults Academy.
October 28, 1.30pm: Bailey's heart stops beating and he is taken in an ambulance to Aberdeen Royal Infirmary, where he is pronounced dead.
October 28, late afternoon: Police detain 16-year-old boy for questioning in connection with stabbing. The boy is held in custody overnight.
October 29: 1.30pm: The 16-year-old boy is formally charged with murder of Bailey Gwynne while being held at Kittybrewster custody centre in Aberdeen.
October 30: Teenager appears at Aberdeen Sheriff Court charged with murder and makes no plea.
November 2: Pupils return to Cults Academy for the first time since the killing.
November 6: Teenager makes second court appearance in Aberdeen and again submits no plea.
November 12: The 16-year-old has appeal to be released on bail rejected by Crown Office.
February 23, 2016: Teenager admits killing Bailey Gwynne but culpable homicide plea is rejected by prosecutors.
February 29: Trial of boy accused of Bailey Gwynne's murder starts at the High Court in Aberdeen.
March 7, 2:11pm: Jury retires to consider its verdict.
March 7, 3:52pm: Jury clears the boy of murder but finds him guilty of the lesser charge of culpable homicide. He is also found guilty of carrying knives and knuckle dusters.