Bailey Gwynne: Independent inquiry into fatal school stabbing
The 16-year-old was stabbed through the heart at Cults Academy in Aberdeen last year.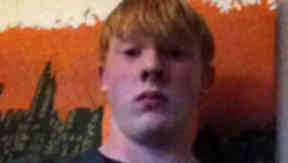 An inquiry is set to be held in the wake of a school stabbing which cost the life of a 16-year-old boy.
Bailey Gwynne was stabbed through the heart at Cults Academy on October 28 and died of his injuries at Aberdeen Royal Infirmary.
A 16-year-old boy accused of his murder was found guilty of the lesser charge of culpable homicide on Monday.
The teenager, who cannot be named for legal reasons, was also found guilty of carrying a knife and knuckledusters prior to the fatal stabbing and told police he had them to "be cool".
An independent review of the circumstances surrounding Bailey's death will be carried out with the participation of groups including Aberdeen City Council. NHS Grampian, and Police Scotland.
A spokeswoman for the council said: "Given the issues raised by the case the agencies together wish to identify any lessons that can be learnt to inform future practice.
"In the immediate aftermath the multi-agency partnership's priority was the care and support of those impacted by the incident.
"The intention to conduct an independent review was discussed shortly afterwards but now that the trial has concluded it is appropriate to proceed.
"The review will be chaired by an independent expert who will also help shape the reporting timescale and terms of reference."
Bailey was stabbed at the end of the school lunch break following a row about biscuits, the High Court in Aberdeen was told during a five-day trial.
The two boys exchanged heated words after Bailey refused to give a biscuit to another child and he was stabbed once in the chest with a folding knife kept in his killer's blazer pocket, the jury heard.
Shortly afterwards he collapsed in a nearby corridor and began convulsing, before his heart stopped.
The knife penetrated around 4cm into his heart, inflicting a fatal wound. The trial was told that even if Bailey had been stabbed in a hospital his chances of survival would have been slim.
A witness said his killer was seen with a knife "maybe 25 times" before the stabbing and the 16-year-old admitted regularly carrying it with him.