Hydrogen-powered cars will take to roads in European first
Aberdeen City Council unveils two Hyundai ix35 SUVs in partnership with Co-wheels.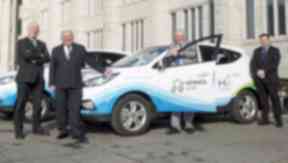 Motorists in the north east of Scotland will become the first in Europe to be able to drive hydrogen-powered cars as part of a car sharing club.
Aberdeen City Council and Co-wheels, which runs the car sharing club in the city, unveiled the two Hyundai ix35 SUVs during a special event on Tuesday.
The cars will be made available for the public on a pay-as-you-go basis later in the year, after an initial testing period and a series of promotional events. The Hyundai ix35 has a driving range of 326 miles on a single fuelling and produces no harmful emissions.
Councillor Barney Crockett said: "Today marks another important milestone for Aberdeen and its future-focused Hydrogen Strategy.
"Once again we are demonstrating that by taking the lead on developing and using new and innovative technologies we can offer environmentally friendly alternatives to traditional methods of transport which rely on fossil fuels."
Mr Crockett, who chairs the European hydrogen association HyER, added: "Aberdeen is developing a reputation as a 'can do' hydrogen city.
"The Aberdeen Hydrogen Bus Project, which attracted £21m of investment into the city, saw the deployment of Europe's largest hydrogen bus fleet on our streets.
"Aberdeen is renowned as an energy city and for being keen to drive forward new energy technologies and work with countries across the world to secure its future as an energy leader.
"With these cars, we are taking things to the next level, moving ever closer to becoming a world-leading renewables city and securing a hydrogen economy in Aberdeen, presenting tangible opportunities to the energy industry."
In 2012, Co-wheels became the first car club in the world to trial hydrogen cars. The vehicles convert hydrogen into electricity to drive a motor.
Co-wheels managing director Richard Falconer said: "Co-wheels has always pioneered cleaner and greener travel options, and these hydrogen powered cars are another step toward improving air quality and reducing CO2 emissions in the city.
"We are delighted to be working with Aberdeen City Council to enable residents, council staff and local businesses access to this cutting edge green driving technology."