Families criticise council over baby ashes crematorium review
Aberdeen Council accused of lack of respect for families after publication of new report.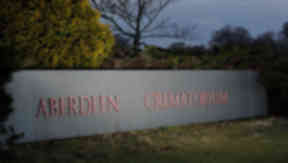 Families affected by the baby ashes scandal have criticised council bosses for failing to include them in a new review.
A major inquiry was launched after it emerged staff at Mortonhall Crematorium in Edinburgh had secretly scattered the ashes of children for decades without the consent of their parents.
Investigators were also unable to say whether families had been consulted in 40 instances where children's ashes were scattered at Aberdeen Crematorium, dating back to 1984.
A report published in the wake of the inquiry made 64 recommendations to Scottish councils in a bid to prevent a repeat of the scandal.
Twenty-eight recommendations require direct action from crematoriums and 21 of those have already been carried out in Aberdeen, according to an internal audit by the council.
Their newly-published report praises the crematorium for the improvements it has made, but lawyer Patrick McGuire said it provides "no comfort at all" to affected families.
Mr McGuire, a partner with Thompsons Solicitors and family representative, said: "The fact the families found out from the media that this report had been commissioned and published is yet another example of the lack of respect the council continues to show towards the families.
"Why did the council decide that the parents and myself as their legal representative did not need to be informed about this?
"Why does Aberdeen City Council continue to behave in such an offhand manner towards them while other councils with similar issues with their crematoria have met with parents?
"Once again I call on the council to take a long hard look at themselves and start treating these bereaved families with the sympathy and decency they deserve."
Auditors said new legislation must be introduced to implement six outstanding recommendations and a seventh can only be completed after publication of the Scottish Government's full National Cremation Investigation Report.