Yacht thief rescued after sailing into force eight storm
Cathal Matthew had to be rescued after getting into difficulty in the Moray Firth.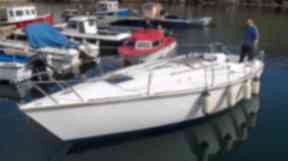 A thief has been jailed after setting out to sea in a stolen yacht with no sailing experience.
Cathal Matthew, 29, sailed 50 miles out to sea after stealing the £6000 boat from Portknockie Harbour.
But he ended up having to be rescued when he got stranded in a violent gale force eight storm in the Moray Firth.
The weather was so bad that the coastguard teams decided not to put any crews at risk rescuing him in stormy sea conditions which were getting rougher.
After drifting out to an oil field next to a rig, he managed to grab the attention of a ship captain who took him on board the vessel to safety.
At Elgin Sheriff Court on Thursday Matthew admitted stealing the Tradewind and a car and driving while disqualified.
Fiscal depute Kevin Corrins said Matthew, who was described in court papers as being a prisoner at Inverness, stole a £17,000 silver Audi S5 after taking it for a test drive.
On November 14 he left the Inverurie area and drove around Aberdeenshire before heading to Portknockie in Moray where he dumped the car.
Matthew, who was previously banned from driving for life in 2007, then took off with the yacht from the harbour and set out to sea.
The captain of a standby vessel later spotted the rookie sailor was in difficulty about 35 miles east of Wick, near an oil rig.
A fast rescue craft was launched to assist Matthews. When the vessel reached the stricken thief, he told its crew that he wanted to get off the yacht.
He eventually admitted stealing the vessel and its owners were contacted by the Portknockie Harbourmaster.
Matthews was kept on the standby vessel for two days until a passing ship could take him back to shore where police were waiting for him.
Mr Corrins said: "As for the Tradewind, it was subsequently washed up on the island of Auskerry east of Orkney and it was in quite a bad state of repair."
Defence lawyer Robert Cruickshank said his client was expecting a jail sentence. He said he had acted in an impulsive manner and put it down to being a coping mechanism "arising out of stress".
Sheriff Chris Dickson told Matthew that he had committed "extremely serious" charges and jailed him for a total of 19 months and 20 days.