Install metal detectors in schools, says majority in poll 
Bailey Gwynne, 16, was recently stabbed to death at a secondary school in Aberdeen.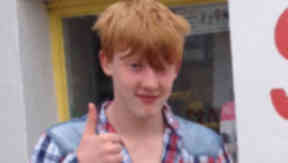 Metal detectors should be installed in schools, believe a majority of Scots surveyed.
Around 60% of people support their introduction to cut down on the number of weapons brought into schools, YouGov found.
Around 30% opposed the move, while 10% did not express a view, according to the survey carried out for the Times.
Children have been excluded from Scottish schools more than 1300 times for attacking others with weapons in recent years.
The study of 1070 adults was carried out in Scotland the same week a 16-year-old boy was found guilty of killing Aberdeen schoolboy Bailey Gwynne.
His killer, who cannot be named for legal reasons, was charged with murder but found guilty of culpable homicide at the High Court.
The teenager admitted repeatedly taking a knife and knuckledusters into school in an attempt to "be cool".
On Friday, Aberdeen City Council announced child protection chief Andrew Lowe would lead an independent inquiry into the circumstances surrounding Bailey's death on October 28.
His killer is due to be sentenced in Edinburgh on April 1.