No trace of hiker missing in mountains for more than a week
Jim Robertson, 61, failed to return home to Glasgow after a trip to the Cairngorms.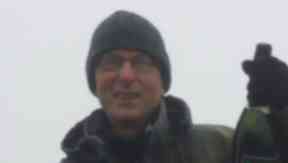 No trace has been found of a missing hiker who vanished in the Cairngorms more than a week ago.
Jim Robertson, 61, failed to return home to Glasgow after a trip to the Mar Lodge Estate in Aberdeenshire last week.
Searches are continuing for Mr Robertson but police say "vast areas" of the Cairngorms have already been explored.
Police mountain rescue team leader Matt Smith said: "Despite a huge search-and-rescue operation which has been running since Saturday we have so far failed to find any trace of Jim.
"Vast areas of the Cairngorms have been covered and we remain indebted to the commitment shown by the volunteers from Braemar, Aberdeen and Cairngorm Mountain Rescue Teams as well as the Search and Rescue Dogs Association and air support from the coastguard.
"Information received from hill-goers has helped to narrow things down but given Jim has been missing for over a week I'm still hopeful someone who may have encountered him on the hill between February 29 and March 2 may yet still come forward.
"On Sunday, we have invited other mountain rescue teams to join us for another concerted search effort and I would widen my appeal to those who might be visiting the Cairngorms this weekend to contact the police immediately with any information which may assist the search teams."