Energy firm to invest £500m in Scottish tidal power
Atlantis is building the world's largest tidal stream energy facility near Orkney.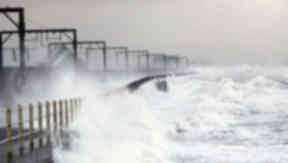 An energy firm has announced it intends to spend £500m on Scottish tidal power over the next two years.
The figure was revealed on Monday as Atlantis unveiled a new partnership with investors Equitix worth around £100m.
Atlantis is developing the world's largest tidal stream energy facility in Scotland, expected to generate electricity for the first time later this year.
The subsea Pentland Firth installation could eventually supply power to around 175,000 homes.
Atlantis chief executive Tim Cornelius said: "This agreement with Equitix, a leading infrastructure investment specialist, is an important step for us in engaging a partner with both vital experience of large infrastructure projects and access to extensive capital, coupled with a desire to work with us to accelerate the further development of the UK's tidal power industry.
"We are very excited to be working with Equitix on a range of fronts."
Lang Banks, director of environmental charity WWF Scotland, said: "It's great to hear of plans by investors to get behind Scotland's tidal power industry in a big way.
"With some of the most powerful tides in Europe, Scotland is well placed to lead in developing this promising technology, which will help to cut climate emissions and create skilled, green jobs.
"Our coasts and islands are rich in renewables potential which could bring many economic and social benefits to remoter parts of the country.
"However, if we are to secure these benefits we need each of the political parties to prioritise renewables and commit to ensuring Scotland becomes the EU's first fully renewable electricity nation by 2030."