Scots search and rescue centre relinquishes responsibilities
Moray-based Aeronautical Rescue Coordination Centre's operations relocated to Hampshire.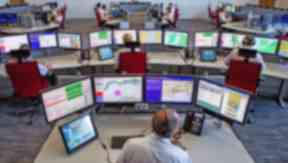 Search and rescue operations are now being coordinated in the south of England after 75 years in Scotland.
The Moray-based Aeronautical Rescue Coordination Centre (ARCC) handed over responsibility to the National Maritime Operations Centre (NMOC) in Hampshire on March 31.
Search and rescue has been coordinated from Scotland since the 1940s but the Ministry of Defence (MoD) said relocating south would mean "better service and value for money".
A spokesman for the MoD said: "As part of the programme to transfer search and rescue services to the Department for Transport, the NMOC at Fareham took control of all UK search and rescue coordination activity on March 31.
"The Kinloss centre will continue to support the NMOC by holding responsibility for the interception of search and rescue beacons until early July."
The ARCC had managed rescues from Kinloss Barracks, formerly RAF Kinloss, for nearly two decades and helped save hundreds of lives every year.
From 1941 until 1997 there were two ARCCs in the UK in Plymouth and Edinburgh. They were established to support search and rescue operations but as time went on the balance shifted towards work with the coastguard, ambulance service and police.
Their responsibilities will now be looked after by the Maritime and Coastguard Agency at the NMOC, which opened in September 2014.
Military search and rescue came to an end in Scotland on January 1 when civilian firm Bristow took over from the Royal Navy and RAF.