University gets £250,000 to search North Atlantic for oil
Oil and Gas Authority funding will be used to explore seabed around Rockall off Scotland.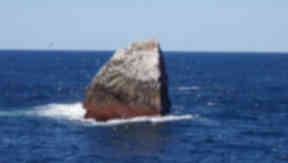 Aberdeen University has been given £250,000 to search for oil in the North Atlantic.
Scientists will use the Oil and Gas Authority grant to explore the seabed around Rockall, more than 200 miles off the Outer Hebrides.
It was awarded as part of a £20m package to boost exploration in the UK Continental Shelf (UKCS) announced by the Prime Minister in January.
Heriot-Watt University in Edinburgh has also been given £250,000 to explore opportunities in the Central North Sea.
Dr Nick Schofield, of Aberdeen University's department of geology and petroleum geology, said: "Rockall remains a truly frontier area of hydrocarbon exploration in the UKCS.
"It is a geologically challenging area but decoding the geology and petroleum system is what makes it exciting to work on.
"The £250,000 grant from the Oil and Gas Authority will support research that will fully evaluate the potential for hydrocarbon prospectivity in Rockall.
"The funding will allow us to apply the innovative knowledge and science we have developed in other areas of the Atlantic Margin to Rockall, and we are grateful to OGA and the UK Government for their support.
"Importantly, the award is paired with a similar award to Professor John Underhill at Heriot-Watt University, working on the Mid North Sea High area of the Central North Sea.
"Both members of the Aberdeen and Heriot-Watt research groups will be working closely and sharing expertise across both areas to maximize the impact of both projects.
"This collaborative effort brings together a collection of experienced, respected industry facing academics, with a passion for the future energy security of the UK."
The UK Government claims the right to extract oil and gas from the seabed within the UKCS but the right to exploit the area around Rockall has been the subject of a long-running dispute between Denmark, Iceland, Ireland and the UK.