Teenager tells how she was diagnosed with depression aged 12
Chloe Allan suffered cruel taunts at school, leading to years of mental health issues.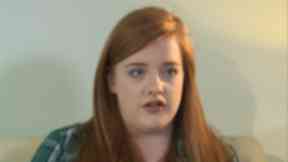 Chloe Allan was diagnosed with depression when she was just 12 years old, after she was subjected to cruel taunts and online bullying about her appearance.
The teenager, from Aberdeenshire, died her ginger hair brown in a bid to "fit in" but continued to suffer from mental health problems, including crippling anxiety attacks.
Now 17, Chloe described the anxiety attacks as "a sensation like drowning. You feel dizzy, you can't breathe, you feel like your head is going to explode."
It is thought that about one in ten children and young people suffer from mental health problems, with as many as 70% not getting the right help at the right age.
Chloe, who has since received counselling and is taking medication, spoke to STV's Rebecca Curran about how her illness affected her.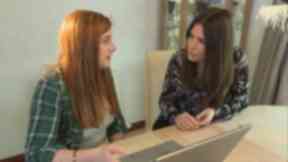 The 17-year-old urged other young people to seek help if they are suffering.
She said the bullying she received at school initially drove her to self harm: "I did for a while harm myself... but not any more.
"I felt it was the only way I could find peace... if that makes sense?"
As well as enduring bullying in school she was targeted online with daily abuse.
She said: "There was two or three Twitter accounts set up by this person... the same person from school.
"They were sending me a heap of messages tweeting me saying nobody liked me and I didn't have any friends and the friends I did have were just putting up with me.
"I was getting that every single day."
As well as depression, Chloe's anxiety attacks had a profound impact on her life.
She hardly ever felt able to go out with friends, leading to a "vicious cycle" where she felt isolated and unhappy.
'It is almost like drowning. You feel dizzy, you can't breathe.'

Bullying victim Chloe Allan
Describing the attacks, she said: "It is almost a sensation like drowning. You feel dizzy, you can't breathe, you feel like your head is going to explode, your hands start shaking, you get sweaty.
"Every single thing you have ever done 'wrong' crosses your mind and you begin to wonder whether everyone hates you or not.
"Whether someone laughing is laughing at you. Whether that person across the street is staring at you. It literally feels like hell."
After receiving counselling for her depression, Chloe has now learned to embrace being different from others around her.
She said: "If you are suffering from something speak out talk to somebody I didn't think talking would help but it does, it really does help.
"Everybody is trying to fit in because no body wants to be different.
"But now I've realised different is good. You don't want to be like everybody else. You want to stand out."
She advised other young people suffering from depression: "Be with the people that love you and care about you, don't push them away."
Lisa Cohen, from mental health charity See Me, said: "Young people tell us that when they go to seek help they biggest issue is not being taken seriously, that people just dismiss them for being young and say 'you'll get over it.'
"For us its about getting them referred to get proper and appropriate support, and timely support.
"Because we know if young people are supported properly in their teenage years, they can go on and make a full recovery."
If you have been affected by any of the issues raised in this article you can contact the Scottish Association for Mental Health on 0141 530 1000.