Verdict due over Scot 'forced into working against his will'
Michael John Hughes claims he would be beaten if he did not carry out the work in Wales.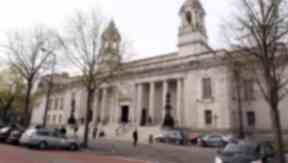 Jurors have started deliberating in the trial of four family members accused of forcing a man to work against his will.
Patrick Joseph Connors, 59, his two sons Patrick Dean Connors, 39, and William Connors, 36, as well as 34-year-old son-in-law Lee Christopher Carbis, are on trial at Cardiff Crown Court.
The Crown alleges homeless Scot Michael John Hughes was made to work long hours at the Connors' tarmacking business in south Wales for 26 years, earning as little as £5 a day.
In his evidence, Mr Hughes, who travelled to Wales from Aberdeen as a teenager, said he would be beaten if he did not carry out the work and was "hunted down" every time he tried to escape.
He said he was made to live in a 4ft-wide garden shed with no heating or running water for two years.
The defence argues former prisoner and heroin user Mr Hughes had been inconsistent in his account and he was paid fairly, as well as being free to come and go as he pleased.
Barristers for the Connors family point to evidence that Mr Hughes often went to a local pub with friends and went on a holiday abroad with his girlfriend.
The 46-year-old complainant also denied claims he pressed charges against his former employers to "save his own skin" after being arrested as part of a Trading Standards investigation into the Connors' business.
Jurors heard the firm regularly targeted elderly and vulnerable people and charged extortionate prices for work.
Prosecutors allege a second man in the case, known as Mr K, was also kidnapped and attacked.
The defendants all deny one count of requiring another person to perform forced or compulsory labour between 2010 and 2013.
Rumney man Connors Snr has also pleaded not guilty to eight counts of causing actual bodily harm, four of kidnap and one of conspiracy to kidnap. The dates for those alleged offences range between 1990 and 2012.
Carbis, of Trowbridge, has also pleaded not guilty to one count of kidnap between 2001 and 2002.
Judge Neil Bidder QC has already informed jurors he will be directing them to deliver not guilty verdicts on Patrick Dean Connors for a charge of conspiracy to kidnap and William Connors for a charge of causing actual bodily harm.
The court has also heard that although the allegations relating to Mr Hughes date back to 1990, the forced labour charge only dates from 2010 onwards because that was when the Coroners and Justice Act (2009) came into force.