Nearly 100 jobs under threat at two North Sea firms
Caledonian Petrol Services and Apache North Sea are planning cuts to their workforces.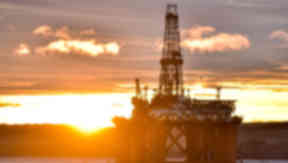 Nearly 100 jobs are under threat at two North Sea firms hit by the oil downturn.
Up to 60 manual workers are expected to lose their jobs at Caledonian Petrol Services (CPS) and another 37 are set to go at Apache North Sea (ANS).
Both companies said the cuts were essential to ensuring their future in the offshore industry.
The price of a barrel of oil has risen significantly in recent months from less than $30 to nearly $50 but more than 70,000 jobs have been lost across the UK since the start of 2014.
A spokesman for CPS said: "It is with great regret we are having to take this course of action.
"Unfortunately, as we experience the most serious downturn in the North Sea oil and gas industry since the mid 1980s, we are seeing our customers look beyond the North Sea to other areas in the world where the cost base is substantially lower.
"In turn, we simply have to take this action in reducing our cost base to protect our business. This regrettably means a reduction in our workforce until demand returns."
An ANS spokesman added: "This decision was made with much deliberation and was not taken lightly.
"The company does not propose to seek volunteers for redundancy and it is proposed that selection will be based on job performance and skills.
"While the company has made progress reducing its costs, further reductions are necessary to maintain a sustainable business and further strengthen Apache's commitment to its North Sea operations now and in future."