Thieves blew up cash machines in £130,000 crime spree
The Liverpool-based gang struck in the early hours in the north east using oxygen and acetylene.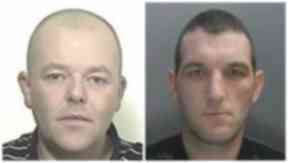 A gang of thieves used explosive gas to blow up cash machines in a series of raids totalling more than £130,000.
Joseph McHale, 38, Kevin Schruyers, 42, and Robin Vaughan, 43, all from Liverpool, were part of a gang who targeted cash machines across Aberdeen and Aberdeenshire.
The gang struck in the early hours, using oxygen and acetylene to gain access to the safes behind the ATMs.
They caused thousands of pounds worth of damage to bank machines in Stonehaven, Inverurie, Aberdeen, New Deer and Ellon between August and November 2013.
The men duped Francis Clark into providing them with a hideaway after one of them met him at a party.
Mr Clark said he was not suspicious when Vaughan phoned in August 2013 and asked if he could put him and his friends up at a chalet he owned beside the golf course at Cruden Bay.
Mr Clark, 28, told the trial at the High Court in Glasgow: "They said they were up here to do different things in the oil industry and stayed for a week or maybe ten days."
He said at the time he was living at the chalet in Cruden Bay because he was working in Peterhead.
Mr Clark told prosecutor Keith Stewart QC he realised they were robbing ATMs when he came home from work one day and found Vaughan and others dipping banknotes into a bowl filled with nail varnish remover.
He was asked where the dye came from and replied: "When you blow up an ATM, dye goes on the money.
"I asked what was going on and they told me they had blown up ATMs. They said they used a mixture of oxygen and acetylene. They said they got around £100,000 from one machine.
"I was concerned for my safety and well-being but I didn't know what to do."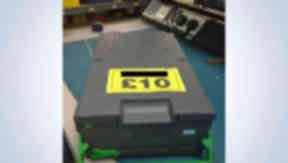 After injuring his left arm in an accident in September, Mr Clark moved back to his parents' home in Aberdeen and in October he received a series of phone calls from Vaughan.
Mr Clark said: "He just kept saying I'm coming up to Aberdeen. I'm coming up to do machines. I told him I wanted nothing to do with it."
He told the court he switched off his phone so Vaughan could not contact him. The court heard Mr Clark was originally a suspect in the case but appeared during the trial as a witness.
The focus of the investigation led to Liverpool after a number of Scottish banknotes started to circulate in Merseyside.
Many of these notes had edges cut off in a bid to remove the signs of dye which went on to them.
Others still had some red dye on them even though the gang had tried to remove all traces of it.
At the High Court in Glasgow, McHale and Schruyers were convicted of blowing up an ATM at the Royal Bank of Scotland in New Deer on September 18, 2013, and stealing £21,020.
They were also found guilty of blowing up the cash machine at Scotmid Co-operative in North Deeside Road, Aberdeen, on September 19, and stealing £112,000.
The pair were also convicted of blowing up four ATMs in Ellon, Stonehaven, Inverurie and Aberdeen and attempting to steal from them and stealing a quantity of clothing, golf equipment and money from the professional golf shop at the Paul Lawrie Centre in Aberdeen.
The duo were also found guilty of attempting to break into a cash machine in Mintlaw by using a crowbar.
Vaughan admitted blowing up an ATM in New Deer on September 18, 2013, and stealing £21,020 and another in North Deeside Road, Aberdeen, on September 19, and stealing £112,000.
He also admitted tried to force open an ATM in Mintlaw using a crowbar.
The court heard the technique used in the thefts was extremely dangerous and the jury saw CCTV footage of the ATM in New Deer being blown up which shown airborne debris hurtling from the machine inside the bank.
Neither McHale nor Schruyers gave evidence in their defence but McHale lodged a defence of alibi and claimed that he was in England when the crimes were committed. The jury did not believe him.
Lady Scott deferred sentence on all three accused until next month at the High Court at Livingston.