Sailor who died when yacht capsized in 'fierce squall' named
Frank Whyte, 69, was taken ashore but died at the scene of the accident in Findhorn Bay.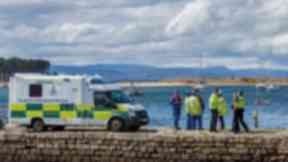 A sailor who died after his yacht capsized in a "fierce squall" off the Moray coast has been named.
The RNLI was called to Findhorn Bay on Saturday after 65mph gusts of winds capsized seven sailing dinghies taking part in a race.
A number of people were rescued from the water but shortly afterwards 61-year-old sailor Frank Whyte was found unresponsive in the sea near his overturned vessel.
Mr Whyte, who was not participating in the race, was taken ashore but died at the scene.
RNLI Invergordon spokesman Michael MacDonald said: "What started as a calm day with sun breaking out, became a fierce squall which appeared in almost an instant with thunder and lightning, heavy rain, hail, and driving winds.
"Our thoughts are with the family and friends of the gentleman who sadly lost his life in what should have been a pleasurable sailing trip."
A Police Scotland spokeswoman added: "A 69-year-old man has died after his boat capsized in the Findhorn Bay area.
"Police and other emergency services responded to reports of a man in difficulty on May 21 at around 1.45pm.
"The man was brought ashore but he sadly died at the scene. The man's next of kin have been made aware."