Prison service urged to return young men to 'super-jail'
No young male prisoners have been held at HMP Grampian in Peterhead since July 2014.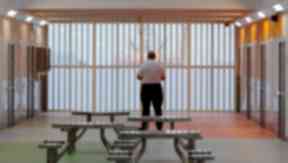 An MSP has urged the Scottish Prison Service (SPS) to commit to reopening the young men's wing at the HMP Grampian "super-jail".
STV News revealed earlier this month that no young men have been held at the £140m Peterhead prison since July 2014.
Nearly 150 prisoners were transferred to prisons in the central belt after a riot in May 2014, including 40 male inmates under the age of 18.
North east Scotland Labour MSP Lewis Macdonald is now asking the SPS to reopen the youth wing.
He said: "I've been trying to get a commitment from the government and prison service to reopen the young men's wing.
"It's a prison designed to hold men, women and young offenders together and it strikes me as bizarre it's not being used for that."
HMP Grampian opened in March 2014 as Scotland's first "community prison", capable of holding more than 500 offenders of all ages.
In a recent report, prison inspectors said it was "disappointing" that areas of the "highest-quality prison estate in Scotland" were lying empty.
An SPS spokesman said young offenders are "better served" at HMP Polmont in Falkirk for the time being.
They added: "We've always said they will move back into HMP Grampian when it's the right time.
"We accept there is a benefit to holding people close to home but it's also important that they get the best opportunities available to them."