First images give insight into warship's sinking 100 years ago
The HMS Hampshire went down after being struck by a mine near Orkney in June 1916.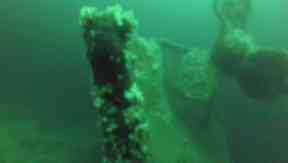 The first pictures of a warship sunk by a German U-boat have been published a century after the disaster.
The HMS Hampshire went down when she struck by a mine laid by a submarine near Orkney in June 1916.
The sinking claimed the lives of all but 12 of her crew.
A total of 737 people were killed, including secretary of state for war Lord Kitchener and his staff.
The minister was being taken to Russia for secret talks with Tsar Nicholas II when the tragedy occurred.
The first modern survey of the vessel was recently undertaken by the University of the Highlands and Islands (UHI) with the permission of the Ministry of Defence.
The survey, carried out by Orkney's Roving Eye Enterprises with special permission from the Ministry of Defence, confirmed the Hampshire capsized as she sank and now lies upturned on the seabed.
The footage shows the damage caused by the mine at the bow of the vessel and reveals guns from the cruiser were thrown up to 100ft from the ship as it overturned.
Sandra Henry from UHI's Archaeology Institute said: "This remote survey has provided many new insights into the sinking and wreck of the HMS Hampshire.
"Ongoing work will continue to develop our knowledge base, revealing new information as we continue to gather and process data, creating a record of the Hampshire in 2016."